Cooters 26th Annual Crab Fest
October 24, 2019

-

October 27, 2019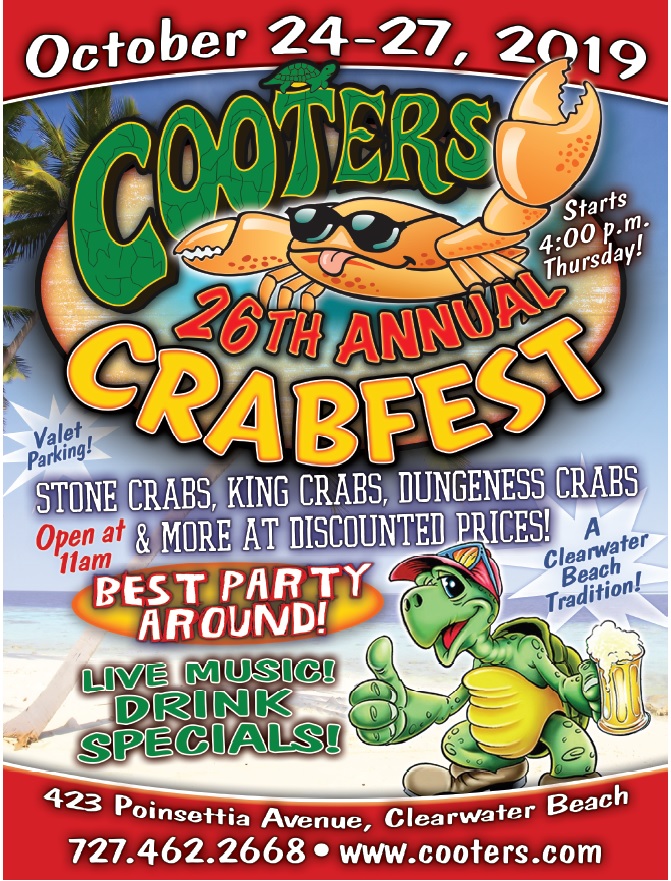 Cooters 26th Annual Crab Fest Oct. 24-27, 2019

It's Time to Get Cracking!
Clearwater Beach, FL – Dig in to one of Florida's favorite seafood delicacies at Cooters Restaurant & Bar as the Stone Crab season begins! Cooters 26th Annual Crab Fest returns Thursday – Sunday, Oct. 24-27, 2019. The event features boat loads of fresh Florida Stone Crab plus other crab varieties including King Crab, Snow Crab and Dungeness Crab, all at wholesale prices! In addition, the festival will have other food and drink specials, commemorative souvenirs and live music on stage!
During Crab Fest, Cooters will serve fresh (never frozen!) Florida stone crab. The claws can be ordered hot with drawn butter, or cold with Cooters signature house-made sauce. The claws are semi-cracked in the kitchen just prior to serving, and diners are provided with mallets and crab forks to get bit of the sweet crab meat.
Although Stone crabs are the headliners, Cooters will also dish up pounds of Snow, King, and Dungeness Crab legs, which are served piping hot with melted butter. To whet your appetite, order Cooters Hot Crabby Shrimp Dip Appetizer for your party…there's plenty to share!  Next, enjoy a cup of Cooters She Crab Soup, which is made in house, and served with garlic toast rounds.  Then move on to your favorite type of Crab!   For the ultimate culinary delight, try Cooters' Crab Feast Platter, which is loaded with an array of all of the varieties of crab, and serves 2-4.
Cooters Crab Fest is a family friendly event and there is No Admission fee. Crab Fest hours are: Thursday 4 p.m. – 10 p.m., Friday 11 a.m. – 11:30 p.m. , Saturday 11 a.m. – 11:30 p.m. and Sunday 11 a.m. – 8 p.m.. Valet parking will be available for Cooters patrons. Cooters full menu, gluten free menu and kids' menu will also be available during Crab Fest.